OldPalHappy
Level three was a bit less fun overall for me, but it also had the most fun project.
Let's jump right in!
---
---
---
Challenge 15: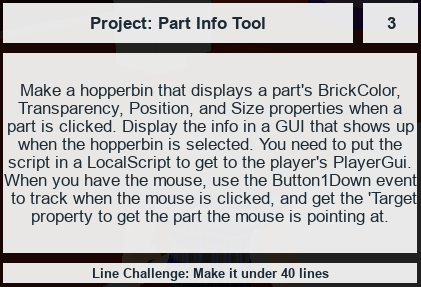 Because I was lazy, I just printed the information.



The real trick is simply using a Local Script that runs on the client, and getting the mouse target. This one was rather simple, so let's move on.
---
---
---
Challenge 16: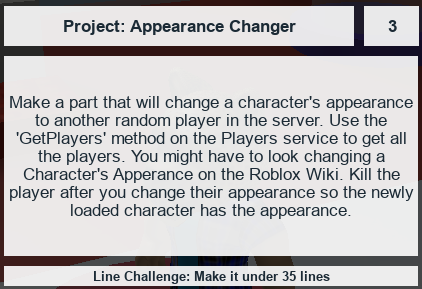 This one I thought was going to be hard, until I found out that you can change the player's appearance rather easily.


Here's the link that really helped me.
---
---
---
Challenge 17: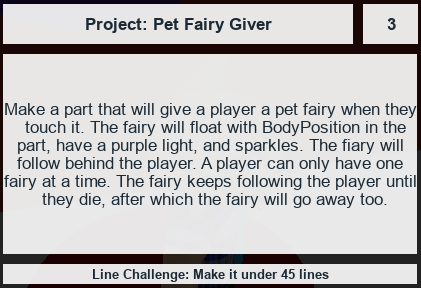 I went pretty simple here and used BodyPosition after creating a part. I just kept setting the BodyPosition's Position to behind the character.

---
---
---
Challenge 18: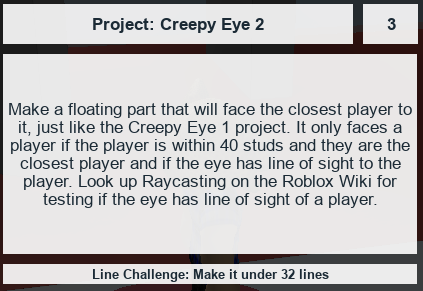 Using the first eye we made, I simply adding a ray and casted it towards the character. If the first thing it hit wasn't the character, discontinue the rest of the code, else keep going.


---
---
---
Challenge 19: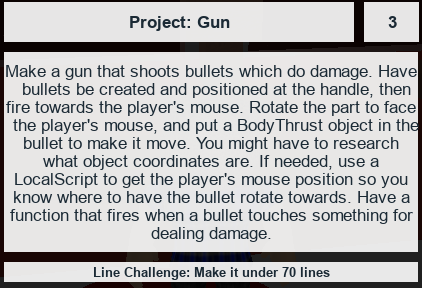 This one I had the most trouble out of all of them. I had such trouble because I'm net very good with BodyMovers. I ended up going for a lerp method, which is really bad. If you made a good gun that shoots real bullets, let me see it. :P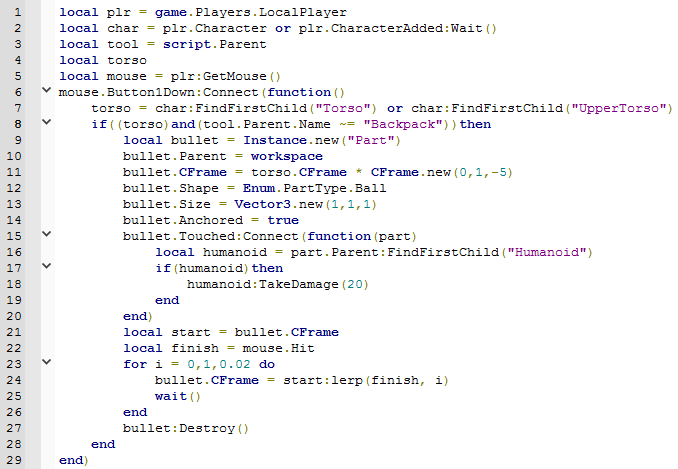 ---
---
---
Challenge 20: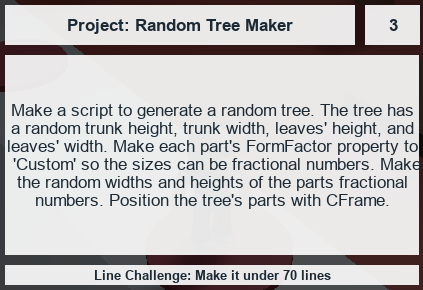 This one was my favorite. It wasn't hard math, so I managed getting it done very quickly. The real trick is setting the CFrame of the new Trunk/Leaves to half their size plus have the size of the thing you're spawning them into.


---
---
---
You can take a look at all my solutions here.
If you haven't seen my first tutorial or second tutorial, take a look!
Thank you for reading, and I hope this encourages you to take on more projects, and try out new solutions!